I'm not going to lie, I have a love hate relationship with this seasons trends. It seems that the 80's are resurfacing, just in a modern 2018 version and with it brings back things like rubber, strong saturated colours and tassels. The question is, can we make these trends funky and fun without our future selves looking back on them and thinking "I can't believe we wore that".
Every season I try to make sense of the runway trends for me, my style and my personality. And while I may not be a fan of the parachute material making a reappearance or the puffed shoulders that the likes of Stella McCarteny and Lavign have brought back to the runway, there are a bunch of trends that I think are fun and I am keen to wear this season. Here are 5 of my favourites. Lets start off with one I think is a bit of fun but resembles a fashion that I was wearing in all of my childhood photos...
Pink and Red
Yep, it's back! We have seen models on all the big stages across the globe wearing pink and red combinations from many of the big designers like Oscar De La Renta, Hermes and Brandon Maxwell. Australia unfortunately will not get most of these collections coming through till (coincidentally) Valentines day. However, if you want to get on the front foot of this trend then start mix and matching this combo now. We are already seeing stars like Marina Orlova, Taylor Swift and Gal Gadot gracing the red carpet in these colours and there is plenty more to come.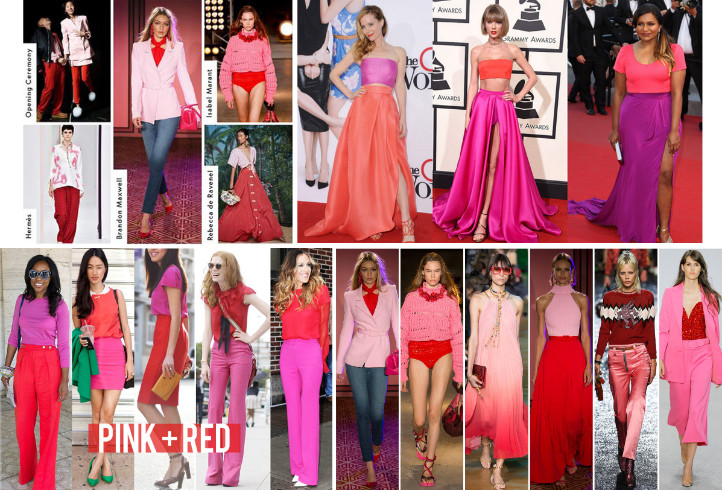 White suiting
This is something I can totally get behind. I notoriously don't wear enough black for a Melbournite and I love to wear whites often. This look can be dressed up or down depending on your style and the occasion. The best part of any fashion trend is taking it and making it yours, so whether you wear this look with heals and a clutch or white chucks is up to you. Gone is the old Labour day rule, this look will make you look fresh and ready for any spring occasion.

Transparents
This reminds me of the clothes my mother used to wear when I was a bub. She was always such a sexy woman, she had no qualms about wearing articles of clothing like sheer blouses with no bra or soft light dresses that left little to the imagination. It was the 80's and they were living a pretty hippy carefree lifestyle for a couple of years. She had the confidence to go with it and I treasure the photos I have of this time. How do we translate this into 2018? Well designers like Fendi, Christian Dior and John Galliano have designed some beautiful pieces this season that graced the catwalks. Showing us how to once again rock the confidence and freedoms of the transparent designs.

White Tank Tops
Here is a fashion trend we all know and love and I am chuffed the big guys are bringing it back into the forefront of fashion again. White tank tops. Not only do we all own one or more but they are super comfy and an easy staple to play with. This season Calvin Klein, Mugler and Alexander Wang brought this back to the runway, just to name a few. There is so many ways to wear this trend that we can all wear our own version of it without feeling out of our comfort zone or budgets.

Full Skirts
This fashion trend is complimentary for so many different body shapes that it works for almost all of us. Not to mention, I am totally in love with full skirts. I was the kid that when we played dress ups I would look like someone out of the 1700's because I would want the biggest skirt in the dress up box. I have always loved the play of a big skirt. Each fabric having a life of it's own as it reacts to your movements in it's own way. To me it doesn't matter if they are structured, flowy or somewhere in between. There is so many ways to wear this style that I couldn't decide which examples I loved best. Here is 10 fun options.

If you have examples of you wearing any of these trends I would love to see them! Tag @eveeditorial so I can check out your fab style this Spring.