So that's it, Australia is officially in Autumn and we are getting ready to dust off the boots and don our favourite scarves and jackets.
What else has changed with the season? What is trending in the world of fashion? Well here are a couple of things that we are seeing around the traps...
The Middle Part
Did this ever leave, I hear you ask. And you'd be right to ask, this style has ebbed and flowed throughout fashion for decades now. It was huge in the 90's when Kate moss and Heidi Klum were strutting their stuff on all the big stages around the world and although it has never been outlawed as a fashion faux pas it hasn't always been in the spot light. Now we see the likes of Alexander Wang, Akris, Marchesa and Michael Kors all bringing this look back. This look is fresh and young and it's everywhere!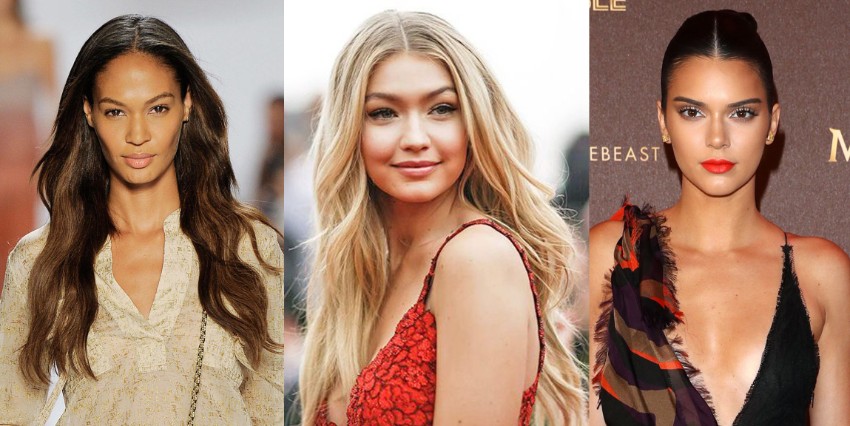 How to achieve it
Ditch the dry shampoo for a little hair oil to keep this look sleek. Apply a little to damp hair and use a large paddle brush to brush it through. You can wear this look in a couple of different ways. Either super sleek - Run your straightener from roots to tips and then add a shine spray to give you a glossy sheen - Or, keeping your part smooth, you can curl and tease the rest of your hair to give it a full but styled look
Wet Hair
For some of you living in the colder parts of Oz, no this isn't actually wet hair so don't fret just yet. This sexy, fun just-got-out-of-the-pool hair was also seen on the runways this season of Marni, John Galliano and Jason Wu and it is super easy to achieve.

How to achieve it
"Run pomade through wet hair and comb for slick finish" Says Frank Apostolopoulos, celebrity hairstylist and Wella ambassador. Try Frank & Paul Brooklyn pomade $28.
Floral hair pieces and embellishments
I think we can safely thank Snapchat for this crazy trend that has seen every hens party for the last two years making floral head pieces, instead of asking brides embarrassing questions and playing drinking games. I'm not sure if I am happy about that or not... In any case floral head pieces seem to be staying for now and we are all still having a lot of fun with them. Melbourne's Spring Fashion Festival was a floral fiesta and the runways of the world have continued the trend with Ann Demeulemeester and lanvin dabbling in florals or Moschino and Designual going all out in a bloom explosion. Blooms continue to be big, bright and fabulous.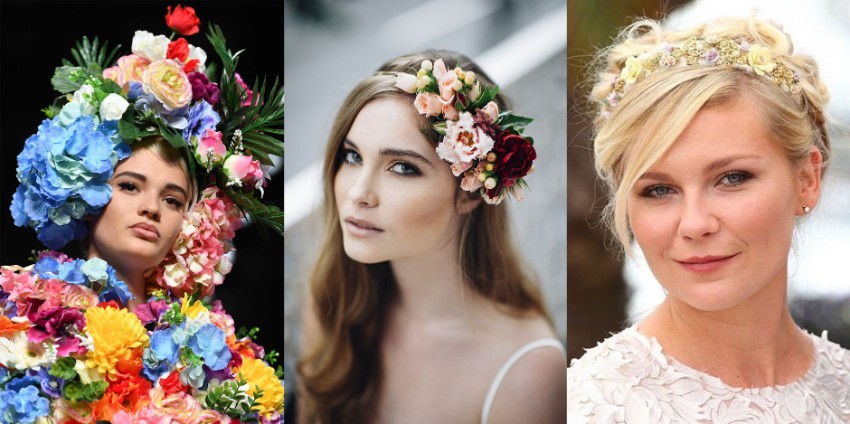 Now you might be saying "I'm not a flower type of gal". Well that's ok because you can bling it however you want. Hair accessories have been massive this season with everything from petit pearls through to some of the most impressively bejewelled creations you can imagine. I've always been a big bling lover and this is one I will be adding to my repertoire this season to give me something new to play with. You can even mix these two trends and go for floral clips!

Pop of colour
Hooray it's back! After several years of minimalism, fresh faces and natural bohos, the world seems ready to finally introduce a little bit of colour back into our makeup routine. Now we're not talking 1980's-blue-eye-shadow-up-to-our-eyebrows colour, but certainly push aside your neutral tones makeup pallet for a little bit more fun!
How to achieve it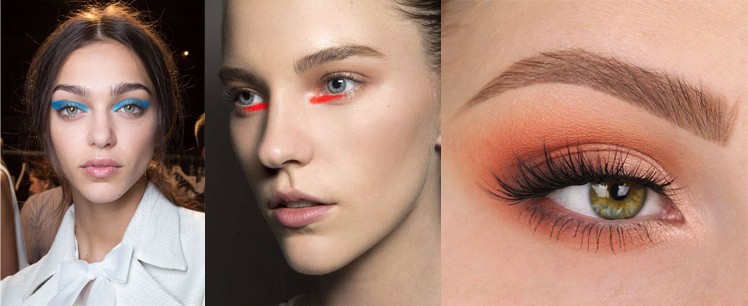 Eyes: The runways are always a little more outlandish and extravagant than we would probably pull off in our local, so although we have seen neon pinks all the way to shades of blue gracing the runways, I would recommend toning it down a little and going for tones that are a little more pastel in colour. I love Coral, tangerine and peachy vibes on the eyes and you can apply as much or as little as you like while you transition back into wearing colour. Keep your lips nude with just a little gloss.

Lips: The bold power pout is dominant again this season so dig out your favourite lippys! I honestly believe that there is a hidden super power to finding the lipstick that goes perfectly with your skin tone so talk to your in store makeup artists, try them on, find your match and wear it with pride! A couple of tips here though... Look after your lips. Lipstick can be very drying and you don't want your lips to be flaking and cracking while you're trying to look fabulous. Try Too Faced Lip insurance, this primer will not only lock in your lip colour but it prevents bleeding and creasing also. Next get a lip pencil that matches your lippy, especially if you are going to be a bad arse and wear red. This will not only keep everything where it is supposed to be but it also helps your colour last longer. Keep the rest of your makeup paired back leaving eyes fresh with just a little mascara, beautiful fresh skin and your lips to be the statement.
The Power Plait
Whether you are having a busy-let's-get-this-done day or you are a warrior goddess on your way to a wedding, braids are back in their many forms. Have fun with it, you don't need to get crazy with it like they do on the runways if you don't want to, not all of us are professional hair stylists. A simple three strand plait will do the trick just as well as a fancy multitude of them.

How to achieve it
Start with clean slightly damp hair. It is very tricky to get a slick result when the hair is dry and fluffy because strands will fall out. However if you want to go for the messy look it can look very sexy once it has been slept in too.
Lastly make it your own! These trends are fun to play with and I hope you enjoy incorporating them into your beauty routine, but remember the next trend is just around the corner and you could be the one setting it. Enjoy!
Marigold - Eve Editorial x.